Angkor Wat – a poem by Allen Ginsberg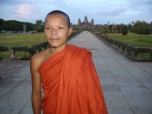 Dybt inde i junglen i det nordlige Cambodia, i området Angkor, har i et halvt millennium ligget ruinerne af nogle af verdens mest fantastiske bygningsværker: hundredevis af buddhistiske og hinduistiske templer opført af mægtige konger i løbet af Angkor-perioden (802-1432). Blandt de mest berømte er Bayon, Ta Prohm og naturligvis Angkor Wat. Efter 1432 flyttede Khmer-rigets hovedsæde væk fra Angkor, og i århundreder var templerne mere eller mindre glemt og dukkede i den vestlige verden kun op som fantastiske vidnesbyrd i opdagelsesrejsendes beretninger. I 1800-tallet blev det enorme Angkor-område mere systematisk udforsket, og omkring århundredeskiftet påbegyndtes et restaureringsarbejde, som – afbrudt af Khmer Rouge's rædselsregime i 1970'erne – har været i gang siden.
I 1963 besøgte den amerikanske beatgenerations-forfatter Allen Ginsberg Angkor og skrev efterfølgende langdigtet Ankor Wat (Fulcrum Press, 1968). Filmen er et rejsenotat fra Angkor, baseret på Allen Ginsbergs digt, oplæst af den amerikanske kunstner Lawrence Weiner.
English:
Deep in the jungle of Northern Cambodia, in the Angkor region, the ruins of some of the most magnificent buildings in the world has been hidden for half a millennium: hundreds of Buddhist and Hinduist temples and palaces built by mighty kings during the Angkor period (802-1432). Among the most famous of the ruins are Bayon, Ta Prohm, and Angkor Wat. After 1432 the capitol of the Khmer empire moved away from Angkor, and for centuries the temples and palaces of the region were more or less forgotten, only to appear occasionally as fantastic tales of Western travellers and expeditions. In the 19th century the enormous Angkor region was more systematically explored, and for the past hundred years a number of organizations have been engaged in the restoration of a number of the buildings. In 1963 the American Beat Generation poet Allen Ginsberg visited Angkor and wrote a book-length poem based on his observations: Ankor Wat (Fulcrum Press, 1968). This film is a travel notebook from Angkor, based on Ginsberg's poem, read by the American artist Lawrence Weiner.
Lars Movin
Danmark, 2004, 18 min.